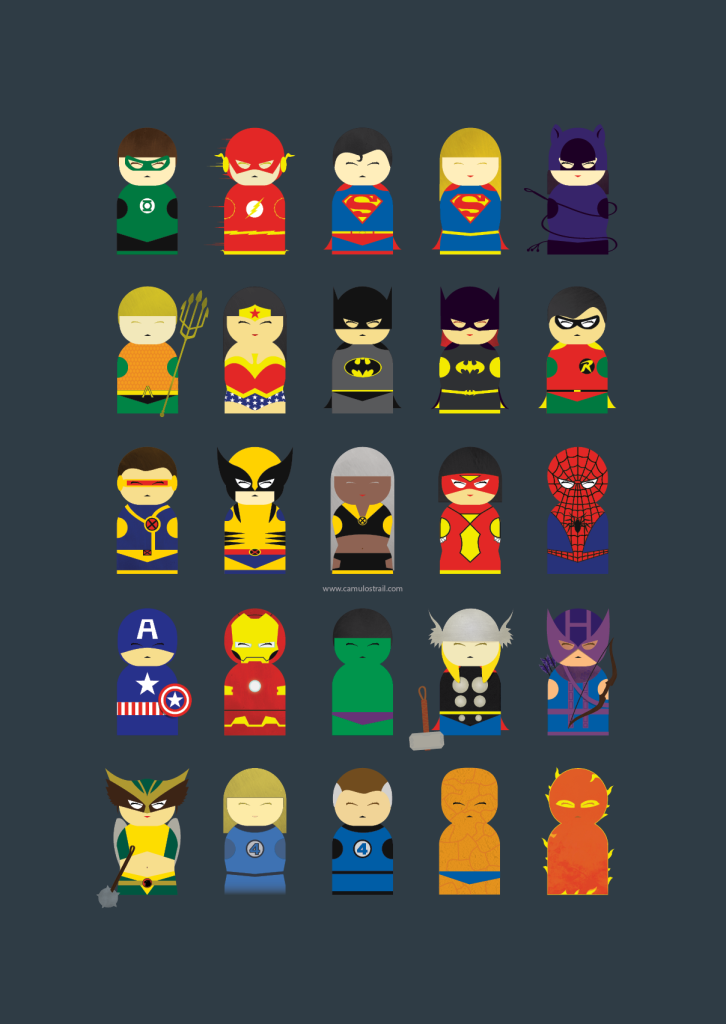 For the last few months I have been re-visiting old designs for the purpose of selling at crafts markets
. I redid all the figures from the pop-personas poster I did for Bambus back in 2011, added textures on hair, metal and a few other elements
. Added some props for some of the characters
. And I designed a few new characters: Ash (Pokémon), Link (Zelda: A link to the past) and Steve (Minecraft).
For prints, each character was placed on a dark background with a central light radial gradient, shadow included on the ground (removed for Invisible Woman) for each character and most props. Each character is printed on A5 card-stock glossy front and matte back. I also got the 25 Marvel/DC characters version printed as a small 426 x 601 mm poster (only 3 were made, all sold.)

Most of the work were done in Illustrator, except texture cropping (Photoshop) and final print layout (In-Design). The cards are sold at crafts markets for 40 NOK each, the posters for 250 NOK each. You can get A5 cards from my Etsy store, found here!
I am currently working on new characters and new variations of printed media. T-shirts, more posters, greeting card variants and more to come. Some of the characters being worked on right now are TMNT brothers, Professor Leyton, Dragonborn, Mario, Luigi, Peach, Bowser and more
.
TMNT WIP 21.08.2015 export from Illustrator
I also sell a couple of cards from my friend Thinh and I share booth/table with my creative family, Toddy and Anne Sofie.
Markets I have visited: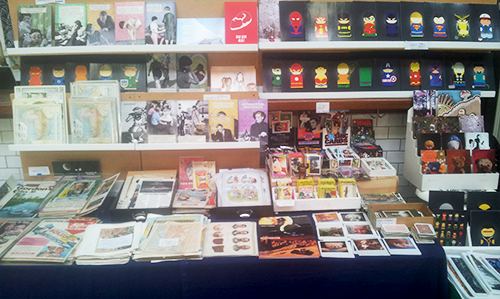 Søndagsmarkedet på Blå (Sunday-market at Blå), is a market repeated every Sunday all year long, the cost for a single booth (table) is 200 NOK. I have been at this market every Sunday since May, it is well-visited and have a good variety of wares sold, ranging from homemade jewelry to vintage clothes and organic Olives
.



Drøbak Torg, is a daily market at Drøbak, the cost for 2 X 3 m is 291 NOK. This market may be well visited depending on the season and weather. The wares you can find here is mainly second hand clothes and household things, but you can also find art, jewelry and other homemade crafts. I have tried this a few Saturdays, with fairly good experience.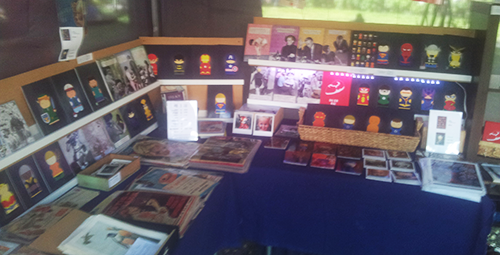 Grünerdagene is a -once per month- weekend marked taking place at Grünerløkka four times each year (in April, June, August and September). It is fairly expensive for a booth, so from the experience in June, we figured that it is not really worth it unless you sell food or sought-after more expensive wares. However the market is very well visited.
Vestkanttorget, is a Saturday market (March to December). 2 X 3 m booth costs 500 NOK, so it is expensive if you are unlucky with your wares / customer-base combination. Mostly second hand wares and vintage antiques can be found here.